With the new discovery from Pinterest, (find my button on the side of this post!:), my creativity has come alive and I've been begging my husband to get me some pallets to start creating with!  I came home today and there where a few in my newly cleaned garage…and I squeeled! yay! Let the creative mess begin!
I have pinned a few of the projects that I was thinking I might jump into here. There are so many…I'm excited to started!!! :)
I'm amazed at the fun ways you can re purpose and re-use pallets for the home…and even better…for your wedding!
Here are 5 ways to use Pallets in a DIY Project for your wedding! Start collecting now!!:)
1. Directional signs to help your guests figure out where they are headed!  or telling your reception guests whats cookin up for dinner or dessert.
2. A pallet picture shelf/bookshelf…make a shelf like the one below following directions here.  You could use it to display some amazing engagement photos, or your childhood photos instead of doing a slideshow. Then when your wedding is over, you could use it in your living room as well!
3. Many different kinds of tables: You could use these for your dessert tables, your reception buffet tables or your cake table! Its a rustic and fun option…then you can reuse later in your home! Just keep your pallet neutral or to match your home decor. I think this is a fabulous idea that I haven't really seen in weddings yet!
.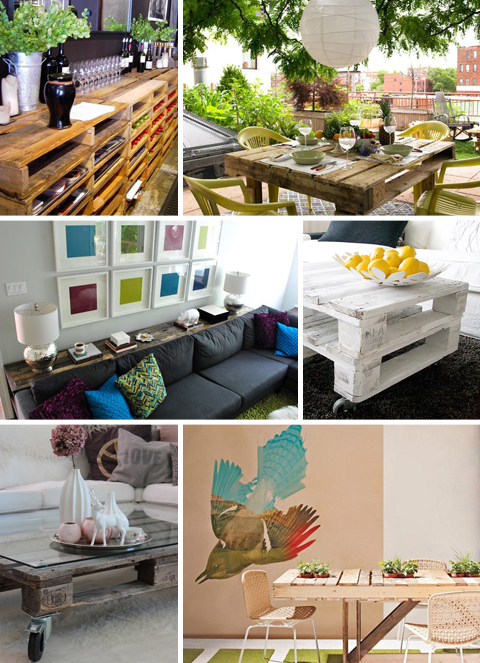 4. Sign in Table This would be so cute at the entrance of your barn/field ceremony for a sign in table or put your thumb print tree on it!  Then use it later in your back yard for a potting table! I wanna make this one for myself!!
5. Wall Art for your wedding: Use what ever words that make you happy…love, marriage, kiss or your initials and lean it up against the wall on one of your tables…or use it as a sign in and have your guests sign it with sharpies! Then you get to hang this in your home after your big day!
I will be making some of my own fabulous DIY projects in the near future and I'll be posting them very soon!  I can't wait to get started on them!